Hi Guys,
Is it possible to change the assignee of a document to a docstar group?
Thanks
Sure can - using the Replace task. We do it all the time.
Hey Mike,
Is there any trick? I just put the group name in the output field but it doesn't seem to work.
And when i save i get this error.
I tried with quotes around the name but that didn't work either.
The following should be fixed before saving:
The parameter [HRClerk] was never used as an input. Location(s): [1]
Would you like to save anyway?
two things going on here - the error is something else. You have used the variable named HRClerk but never assigned it a value or something else. Check your workflow again for where that is and why it's not used correctly.
As for the original - 'Replace' is used like this and our ECM group is called "AP Processing 100"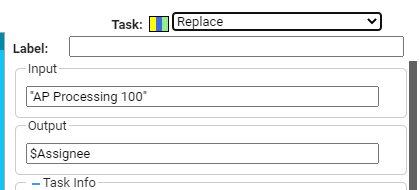 Thanks @MikeGross - I have it working.
sorry it was user error! must be the jetlag still kicking me.
no problem!
Come back and mark it as a solution for others who may be searching for a similar answer.