I am creating a BAQ and using 2 parameters. When I put in the Transfer Order and Packnum, it is showing all the PackNums within that Transfer Order.
When I do it via SQL like the first screenshot, it works fine. Any ideas how I can accomplish the same with BAQ?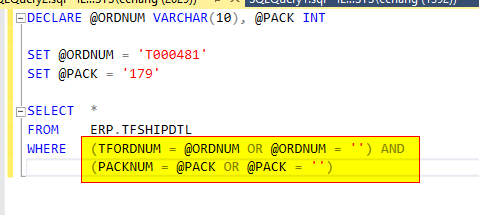 This is what my BAQ looks like. I want to allow the user to be able to input the Transfer Order Number and PackNum together, or just one or the other. If they input only the Transfer Order Number, then bring all the packnum. If they just want to input the packnum, it would only bring that. However, I have some users wanting to put both and then it brings all the packnum and should only be bringing in just the one packnum.