We use APR Breaking and routing to e-mail invoices. We've introduced a new custom field on the customer to change the routing. The field is InvoiceEmail_c and there are 3 values available - blank, "Disabled", and "In-House Destination". I encountered an unexpected problem when I tried to add a condition with a rule to detect the blank value. My first attempt was:

However, the condition evaluated to false when the field was blank. Knowing that null and blank aren't exactly the same thing, I also tested variations of equal to "" as well as equal to ''. In each case, the condition evaluated to false.
I finally overcame the issue by conditioning on the field not being equal to the other 2 possible values.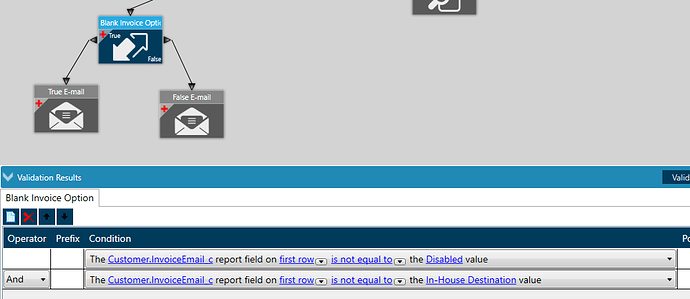 While this works, it would be a pain to implement if there were many more possible values. Has anyone else encountered this? Did you find a syntax to successfully test for the blank value?