When a quote is converted to an order thru Actions > Quote > Create Sales Order, the Quote Order Wizard pops up. If the user changes the NeedBy date, Epicor also adds that revised date into the ShipBy field… I'm trying to prevent it, since a project manager sets this later in the order process…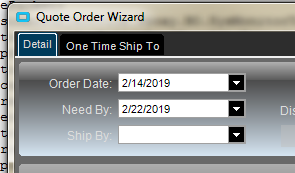 I turned on trace w/ full data set, went through the steps, and then searched the trace for "NeedBy" and "Req", but it wasn't there.
How is Epicor setting this, and can I intercept it? Why isn't the trace catching it?
Have a great weekend everyone.
Trace:
  <businessObject>Ice.Proxy.BO.UserTracingImpl</businessObject>
  <methodName>GetNewOrGetByID</methodName>
  <appServerUri>net.tcp://~Masked~/</appServerUri>
  <returnType>Ice.Tablesets.UserTracingTableset</returnType>
  <localTime>2/14/2019 16:22:16:2501365 PM</localTime>
  <threadID>1</threadID>
  <executionTime total="44" roundTrip="42" channel="0" bpm="0" other="2" />
  <retries>0</retries>
  <parameters>
    <parameter name="UserID" type="System.String"><![CDATA[~UserIDMasked~]]></parameter>
  </parameters>
  <serverTrace>
    <Op Utc="2019-02-14T21:22:16.1059826Z" act="Ice:BO:UserTracing/UserTracingSvcContract/GetNewOrGetByID" dur="33.4994" cli="~IPMasked~:56740" usr="~UserIDMasked~" machine="ERPDB2" pid="568" tid="82" xmlns="">
      <Sql queries="1" cacheHits="0" time="0.2962" qryTypeCount="1" />
    </Op>
  </serverTrace>
</tracePacket>

<tracePacket>
  <businessObject>Ice.Proxy.BO.UserTracingImpl</businessObject>
  <methodName>Update</methodName>
  <appServerUri>net.tcp://~Masked~/</appServerUri>
  <returnType>System.Void</returnType>
  <localTime>2/14/2019 16:22:16:2951410 PM</localTime>
  <threadID>1</threadID>
  <executionTime total="39" roundTrip="35" channel="0" bpm="0" other="4" />
  <retries>0</retries>
  <parameters>
    <parameter name="ds" type="Ice.BO.UserTracingDataSet">
      <UserTracingDataSet xmlns="http://www.epicor.com/Ice/300/BO/UserTracing/UserTracing">
        <UserTracing>
          <UserID>~UserIDMasked~</UserID>
          <AssemblyReflector>Off</AssemblyReflector>
          <BitFlagViewWatcher>Off</BitFlagViewWatcher>
          <Catch>0</Catch>
          <CustomContext>Off</CustomContext>
          <DataTrace>false</DataTrace>
          <DataTraceCCDataSet>false</DataTraceCCDataSet>
          <DataTraceFullDataSets>false</DataTraceFullDataSets>
          <DataTraceIncludeServerTrace>false</DataTraceIncludeServerTrace>
          <DataTraceReturnData>false</DataTraceReturnData>
          <DataTraceDSChanges>false</DataTraceDSChanges>
          <DeploymentLogging>Off</DeploymentLogging>
          <DeregistrationException>Off</DeregistrationException>
          <DialogException>Off</DialogException>
          <FormLoad>Off</FormLoad>
          <LogException>Off</LogException>
          <NotifyAll>Off</NotifyAll>
          <TransactionLoad>Off</TransactionLoad>
          <DashboardException>Off</DashboardException>
          <TraceHelp>Off</TraceHelp>
          <UITraceLogDirectory>C:\Users\~UserIDMasked~\AppData\Roaming\epicor\log</UITraceLogDirectory>
          <UITraceLocationScheme>%appdata%\epicor\log\</UITraceLocationScheme>
          <SysRevID>1828233110</SysRevID>
          <SysRowID>bbf3963c-032f-4efd-8bff-4d430cfc21ef</SysRowID>
          <BitFlag>0</BitFlag>
          <RowMod></RowMod>
        </UserTracing>
        <UserTracingFlag>
          <UserID>~UserIDMasked~</UserID>
          <ServerTraceFlag>trace://ice/fw/BPM</ServerTraceFlag>
          <CreatedBy>~UserIDMasked~</CreatedBy>
          <CreatedOn>2019-02-14T16:19:24.017-05:00</CreatedOn>
          <ChangedBy>~UserIDMasked~</ChangedBy>
          <ChangedOn>2019-02-14T16:22:16.295141-05:00</ChangedOn>
          <SysRevID>1841420768</SysRevID>
          <SysRowID>7b90ddeb-66e5-46c8-b8d3-febad5ca9b0e</SysRowID>
          <BitFlag>0</BitFlag>
          <RowMod></RowMod>
        </UserTracingFlag>
      </UserTracingDataSet>
    </parameter>
  </parameters>
  <paramDataSetChanges>
    <paramDataSet name="ds" useDataSetNbr="0">
      <changedValue tableName="UserTracingFlag" rowState="Modified" rowNum="0" colName="ChangedOn"><![CDATA[2/14/2019 4:22:16 PM]]></changedValue>
    </paramDataSet>
  </paramDataSetChanges>
  <serverTrace>
    <Op Utc="2019-02-14T21:22:16.1528589Z" act="Ice:BO:UserTracing/UserTracingSvcContract/Update" dur="26.0963" cli="~IPMasked~:56740" usr="~UserIDMasked~" machine="ERPDB2" pid="568" tid="89" xmlns="">
      <Sql queries="6" cacheHits="5" time="12.4742" qryTypeCount="6" />
      <Trigger table="UserTracingFlag" type="Modified" pk="UserTracingFlag&lt;~&gt;~UserIDMasked~&lt;~&gt;trace://ice/fw/BPM" rowId="7b90ddeb-66e5-46c8-b8d3-febad5ca9b0e" duration="0.0174" runningTriggers="Modified UserTracingFlag 7b90ddeb-66e5-46c8-b8d3-febad5ca9b0e --- " />
    </Op>
  </serverTrace>
</tracePacket>

<tracePacket>
  <businessObject>Erp.Proxy.BO.QuoteImpl</businessObject>
  <methodName>DefaultOrderFields</methodName>
  <appServerUri>net.tcp://~Masked~/</appServerUri>
  <returnType>Erp.Tablesets.QuoteTableset</returnType>
  <localTime>2/14/2019 16:22:21:4976612 PM</localTime>
  <threadID>1</threadID>
  <executionTime total="50" roundTrip="34" channel="0" bpm="1" other="15" />
  <retries>0</retries>
  <parameters>
    <parameter name="quoteNum" type="System.Int32"><![CDATA[924219]]></parameter>
    <parameter name="creditMessage" type="System.String"><![CDATA[]]></parameter>
  </parameters>
  <serverTrace>
    <Op Utc="2019-02-14T21:22:21.3560188Z" act="Erp:BO:Quote/QuoteSvcContract/DefaultOrderFields" dur="22.9015" cli="~IPMasked~:57441" usr="~UserIDMasked~" machine="ERPDB2" pid="568" tid="89" xmlns="">
      <Sql queries="70" cacheHits="19" time="13.4346" qryTypeCount="52" />
    </Op>
  </serverTrace>
</tracePacket>

<tracePacket>
  <businessObject>Ice.Proxy.Lib.BOReaderImpl</businessObject>
  <methodName>GetList</methodName>
  <appServerUri>net.tcp://~Masked~/</appServerUri>
  <returnType>System.Data.DataSet</returnType>
  <localTime>2/14/2019 16:22:21:8036918 PM</localTime>
  <threadID>1</threadID>
  <executionTime total="16" roundTrip="16" channel="0" bpm="0" other="0" />
  <retries>0</retries>
  <parameters>
    <parameter name="serviceNamespace" type="System.String"><![CDATA[Erp:BO:Country]]></parameter>
    <parameter name="whereClause" type="System.String"><![CDATA[]]></parameter>
    <parameter name="columnList" type="System.String"><![CDATA[CountryNum,Description]]></parameter>
  </parameters>
  <serverTrace>
    <Op Utc="2019-02-14T21:22:21.6528943Z" act="Ice:Lib:BOReader/BOReaderSvcContract/GetList" dur="4.5175" cli="~IPMasked~:57332" usr="~UserIDMasked~" machine="ERPDB2" pid="568" tid="89" xmlns="" />
  </serverTrace>
</tracePacket>

<tracePacket>
  <businessObject>Ice.Proxy.Lib.BOReaderImpl</businessObject>
  <methodName>GetList</methodName>
  <appServerUri>net.tcp://~Masked~/</appServerUri>
  <returnType>System.Data.DataSet</returnType>
  <localTime>2/14/2019 16:22:21:8246939 PM</localTime>
  <threadID>1</threadID>
  <executionTime total="11" roundTrip="10" channel="0" bpm="0" other="1" />
  <retries>0</retries>
  <parameters>
    <parameter name="serviceNamespace" type="System.String"><![CDATA[Erp:BO:TaxRgn]]></parameter>
    <parameter name="whereClause" type="System.String"><![CDATA[]]></parameter>
    <parameter name="columnList" type="System.String"><![CDATA[TaxRegionCode,Description]]></parameter>
  </parameters>
  <serverTrace>
    <Op Utc="2019-02-14T21:22:21.6685255Z" act="Ice:Lib:BOReader/BOReaderSvcContract/GetList" dur="1.8136" cli="~IPMasked~:57332" usr="~UserIDMasked~" machine="ERPDB2" pid="568" tid="96" xmlns="" />
  </serverTrace>
</tracePacket>

<tracePacket>
  <businessObject>Ice.Proxy.BO.ReportMonitorImpl</businessObject>
  <methodName>GetRowsKeepIdleTime</methodName>
  <appServerUri>net.tcp://~Masked~/</appServerUri>
  <returnType>Ice.Tablesets.ReportMonitorTableset</returnType>
  <localTime>2/14/2019 16:22:26:0721186 PM</localTime>
  <threadID>13</threadID>
  <executionTime total="13" roundTrip="12" channel="0" bpm="0" other="1" />
  <retries>0</retries>
  <parameters>
    <parameter name="whereClauseSysRptLst" type="System.String"><![CDATA[((PrintDriver='TEXT' AND (AutoAction='PRINT' OR AutoAction='PREVIEW')) OR (PrintDriver='CRYSTAL' AND (AutoAction='PRINT' OR AutoAction='AUTOPRT' OR AutoAction='PREVIEW' OR AutoAction='AUTOPRV')) OR (PrintDriver='EPIFIN' AND (AutoAction='PRINT' OR AutoAction='PREVIEW')) OR (PrintDriver='BARTENDER' AND (AutoAction='AUTOPRT' OR AutoAction='AUTOPRV')) OR (PrintDriver='EDI' AND AutoAction<>'') OR (PrintDriver='SSRS' AND (AutoAction='PREVIEW' OR AutoAction='PRINT') AND LastAction='SSRSREADY')) AND WorkStationID='SW-ASKU ~UserIDMasked~']]></parameter>
    <parameter name="pageSize" type="System.Int32"><![CDATA[0]]></parameter>
    <parameter name="absolutePage" type="System.Int32"><![CDATA[0]]></parameter>
    <parameter name="morePages" type="System.Boolean"><![CDATA[False]]></parameter>
  </parameters>
  <serverTrace>
    <Op Utc="2019-02-14T21:22:25.9185538Z" act="Ice:BO:ReportMonitor/ReportMonitorSvcContract/GetRowsKeepIdleTime" dur="3.0385" cli="~IPMasked~:57431" usr="~UserIDMasked~" machine="ERPDB2" pid="568" tid="89" xmlns="" />
  </serverTrace>
</tracePacket>

<tracePacket>
  <businessObject>Ice.Proxy.BO.SysMonitorTasksImpl</businessObject>
  <methodName>GetBallonRowsKeepIdleTime</methodName>
  <appServerUri>net.tcp://~Masked~/</appServerUri>
  <returnType>Ice.Tablesets.SysMonitorTasksTableset</returnType>
  <localTime>2/14/2019 16:22:26:0861200 PM</localTime>
  <threadID>13</threadID>
  <executionTime total="13" roundTrip="10" channel="0" bpm="0" other="3" />
  <retries>0</retries>
  <parameters>
    <parameter name="whereClauseSysTask" type="System.String"><![CDATA[history = true and startedon > 02/13/2019 and  SubmitUser = '~UserIDMasked~']]></parameter>
    <parameter name="whereClauseSysTaskLog" type="System.String"><![CDATA[]]></parameter>
    <parameter name="pageSize" type="System.Int32"><![CDATA[0]]></parameter>
    <parameter name="absolutePage" type="System.Int32"><![CDATA[1]]></parameter>
    <parameter name="morePages" type="System.Boolean"><![CDATA[False]]></parameter>
  </parameters>
  <serverTrace>
    <Op Utc="2019-02-14T21:22:25.9341823Z" act="Ice:BO:SysMonitorTasks/SysMonitorTasksSvcContract/GetBallonRowsKeepIdleTime" dur="2.1229" cli="~IPMasked~:57428" usr="~UserIDMasked~" machine="ERPDB2" pid="568" tid="82" xmlns="" />
  </serverTrace>
</tracePacket>

<tracePacket>
  <businessObject>Erp.Proxy.BO.QuoteDtlSearchImpl</businessObject>
  <methodName>GetList</methodName>
  <appServerUri>net.tcp://~Masked~/</appServerUri>
  <returnType>Erp.Tablesets.QuoteDtlListTableset</returnType>
  <localTime>2/14/2019 16:22:28:0023116 PM</localTime>
  <threadID>1</threadID>
  <executionTime total="60" roundTrip="50" channel="0" bpm="0" other="10" />
  <retries>0</retries>
  <parameters>
    <parameter name="whereClause" type="System.String"><![CDATA[QuoteNum = 924219  AND NOT (KitFlag = 'C' AND KitPricing = 'P')  BY QuoteNum]]></parameter>
    <parameter name="pageSize" type="System.Int32"><![CDATA[0]]></parameter>
    <parameter name="absolutePage" type="System.Int32"><![CDATA[0]]></parameter>
    <parameter name="morePages" type="System.Boolean"><![CDATA[False]]></parameter>
  </parameters>
  <serverTrace>
    <Op Utc="2019-02-14T21:22:27.8560682Z" act="Erp:BO:QuoteDtlSearch/QuoteDtlSearchSvcContract/GetList" dur="40.5741" cli="~IPMasked~:57444" usr="~UserIDMasked~" machine="ERPDB2" pid="568" tid="89" xmlns="">
      <Sql queries="18" cacheHits="0" time="36.7629" qryTypeCount="18" />
    </Op>
  </serverTrace>
</tracePacket>

<tracePacket>
  <businessObject>Erp.Proxy.BO.QuoteDtlSearchImpl</businessObject>
  <methodName>GetList</methodName>
  <appServerUri>net.tcp://~Masked~/</appServerUri>
  <returnType>Erp.Tablesets.QuoteDtlListTableset</returnType>
  <localTime>2/14/2019 16:22:28:0883202 PM</localTime>
  <threadID>1</threadID>
  <executionTime total="51" roundTrip="48" channel="0" bpm="0" other="3" />
  <retries>0</retries>
  <parameters>
    <parameter name="whereClause" type="System.String"><![CDATA[QuoteNum = 924219  AND NOT (KitFlag = 'C' AND KitPricing = 'P')  BY QuoteNum]]></parameter>
    <parameter name="pageSize" type="System.Int32"><![CDATA[0]]></parameter>
    <parameter name="absolutePage" type="System.Int32"><![CDATA[0]]></parameter>
    <parameter name="morePages" type="System.Boolean"><![CDATA[False]]></parameter>
  </parameters>
  <serverTrace>
    <Op Utc="2019-02-14T21:22:27.9341921Z" act="Erp:BO:QuoteDtlSearch/QuoteDtlSearchSvcContract/GetList" dur="39.6589" cli="~IPMasked~:57444" usr="~UserIDMasked~" machine="ERPDB2" pid="568" tid="82" xmlns="">
      <Sql queries="18" cacheHits="0" time="36.3901" qryTypeCount="18" />
    </Op>
  </serverTrace>
</tracePacket>

<tracePacket>
  <businessObject>Erp.Proxy.BO.QuoteDtlSearchImpl</businessObject>
  <methodName>GetList</methodName>
  <appServerUri>net.tcp://~Masked~/</appServerUri>
  <returnType>Erp.Tablesets.QuoteDtlListTableset</returnType>
  <localTime>2/14/2019 16:22:28:1583272 PM</localTime>
  <threadID>1</threadID>
  <executionTime total="13" roundTrip="11" channel="0" bpm="0" other="2" />
  <retries>0</retries>
  <parameters>
    <parameter name="whereClause" type="System.String"><![CDATA[QuoteNum = 924219  AND KitFlag = 'C' AND KitPricing = 'C'  BY QuoteNum]]></parameter>
    <parameter name="pageSize" type="System.Int32"><![CDATA[0]]></parameter>
    <parameter name="absolutePage" type="System.Int32"><![CDATA[0]]></parameter>
    <parameter name="morePages" type="System.Boolean"><![CDATA[False]]></parameter>
  </parameters>
  <serverTrace>
    <Op Utc="2019-02-14T21:22:28.0123173Z" act="Erp:BO:QuoteDtlSearch/QuoteDtlSearchSvcContract/GetList" dur="2.3484" cli="~IPMasked~:57444" usr="~UserIDMasked~" machine="ERPDB2" pid="568" tid="89" xmlns="" />
  </serverTrace>
</tracePacket>

<tracePacket>
  <businessObject>Ice.Proxy.BO.ReportMonitorImpl</businessObject>
  <methodName>GetRowsKeepIdleTime</methodName>
  <appServerUri>net.tcp://~Masked~/</appServerUri>
  <returnType>Ice.Tablesets.ReportMonitorTableset</returnType>
  <localTime>2/14/2019 16:22:56:1081219 PM</localTime>
  <threadID>13</threadID>
  <executionTime total="13" roundTrip="12" channel="0" bpm="0" other="1" />
  <retries>0</retries>
  <parameters>
    <parameter name="whereClauseSysRptLst" type="System.String"><![CDATA[((PrintDriver='TEXT' AND (AutoAction='PRINT' OR AutoAction='PREVIEW')) OR (PrintDriver='CRYSTAL' AND (AutoAction='PRINT' OR AutoAction='AUTOPRT' OR AutoAction='PREVIEW' OR AutoAction='AUTOPRV')) OR (PrintDriver='EPIFIN' AND (AutoAction='PRINT' OR AutoAction='PREVIEW')) OR (PrintDriver='BARTENDER' AND (AutoAction='AUTOPRT' OR AutoAction='AUTOPRV')) OR (PrintDriver='EDI' AND AutoAction<>'') OR (PrintDriver='SSRS' AND (AutoAction='PREVIEW' OR AutoAction='PRINT') AND LastAction='SSRSREADY')) AND WorkStationID='SW-ASKU ~UserIDMasked~']]></parameter>
    <parameter name="pageSize" type="System.Int32"><![CDATA[0]]></parameter>
    <parameter name="absolutePage" type="System.Int32"><![CDATA[0]]></parameter>
    <parameter name="morePages" type="System.Boolean"><![CDATA[False]]></parameter>
  </parameters>
  <serverTrace>
    <Op Utc="2019-02-14T21:22:55.9499693Z" act="Ice:BO:ReportMonitor/ReportMonitorSvcContract/GetRowsKeepIdleTime" dur="2.9601" cli="~IPMasked~:57431" usr="~UserIDMasked~" machine="ERPDB2" pid="568" tid="89" xmlns="" />
  </serverTrace>
</tracePacket>

<tracePacket>
  <businessObject>Ice.Proxy.BO.SysMonitorTasksImpl</businessObject>
  <methodName>GetBallonRowsKeepIdleTime</methodName>
  <appServerUri>net.tcp://~Masked~/</appServerUri>
  <returnType>Ice.Tablesets.SysMonitorTasksTableset</returnType>
  <localTime>2/14/2019 16:22:56:1221233 PM</localTime>
  <threadID>13</threadID>
  <executionTime total="13" roundTrip="11" channel="0" bpm="1" other="1" />
  <retries>0</retries>
  <parameters>
    <parameter name="whereClauseSysTask" type="System.String"><![CDATA[history = true and startedon > 02/13/2019 and  SubmitUser = '~UserIDMasked~']]></parameter>
    <parameter name="whereClauseSysTaskLog" type="System.String"><![CDATA[]]></parameter>
    <parameter name="pageSize" type="System.Int32"><![CDATA[0]]></parameter>
    <parameter name="absolutePage" type="System.Int32"><![CDATA[1]]></parameter>
    <parameter name="morePages" type="System.Boolean"><![CDATA[False]]></parameter>
  </parameters>
  <serverTrace>
    <Op Utc="2019-02-14T21:22:55.9655868Z" act="Ice:BO:SysMonitorTasks/SysMonitorTasksSvcContract/GetBallonRowsKeepIdleTime" dur="2.2249" cli="~IPMasked~:57428" usr="~UserIDMasked~" machine="ERPDB2" pid="568" tid="93" xmlns="" />
  </serverTrace>
</tracePacket>

<tracePacket>
  <businessObject>Ice.Proxy.Lib.BOReaderImpl</businessObject>
  <methodName>GetRows</methodName>
  <appServerUri>net.tcp://~Masked~/</appServerUri>
  <returnType>System.Data.DataSet</returnType>
  <localTime>2/14/2019 16:22:56:7121823 PM</localTime>
  <threadID>1</threadID>
  <executionTime total="21" roundTrip="20" channel="0" bpm="0" other="1" />
  <retries>0</retries>
  <parameters>
    <parameter name="serviceNamespace" type="System.String"><![CDATA[Ice:BO:Company]]></parameter>
    <parameter name="whereClause" type="System.String"><![CDATA[Company = '~CompanyMasked~']]></parameter>
    <parameter name="columnList" type="System.String"><![CDATA[ESEURL,ESENotificationSourceID]]></parameter>
  </parameters>
  <serverTrace>
    <Op Utc="2019-02-14T21:22:56.5593412Z" act="Ice:Lib:BOReader/BOReaderSvcContract/GetRows" dur="4.6831" cli="~IPMasked~:57332" usr="~UserIDMasked~" machine="ERPDB2" pid="568" tid="89" xmlns="">
      <Sql queries="6" cacheHits="0" time="1.5214" qryTypeCount="1" />
    </Op>
  </serverTrace>
</tracePacket>

<tracePacket>
  <businessObject>Ice.Proxy.Lib.BOReaderImpl</businessObject>
  <methodName>GetRows</methodName>
  <appServerUri>net.tcp://~Masked~/</appServerUri>
  <returnType>System.Data.DataSet</returnType>
  <localTime>2/14/2019 16:22:56:7351846 PM</localTime>
  <threadID>1</threadID>
  <executionTime total="13" roundTrip="12" channel="0" bpm="0" other="1" />
  <retries>0</retries>
  <parameters>
    <parameter name="serviceNamespace" type="System.String"><![CDATA[Ice:BO:UserFile]]></parameter>
    <parameter name="whereClause" type="System.String"><![CDATA[UserID = '~UserIDMasked~']]></parameter>
    <parameter name="columnList" type="System.String"><![CDATA[ESEUserID,ESEPassword,DomainName,OSUserId]]></parameter>
  </parameters>
  <serverTrace>
    <Op Utc="2019-02-14T21:22:56.5749677Z" act="Ice:Lib:BOReader/BOReaderSvcContract/GetRows" dur="3.3368" cli="~IPMasked~:57332" usr="~UserIDMasked~" machine="ERPDB2" pid="568" tid="93" xmlns="">
      <Sql queries="2" cacheHits="0" time="0.5463" qryTypeCount="2" />
    </Op>
  </serverTrace>
</tracePacket>