How do you set the Search Options "Return All Rows" parameter to checked via BPM for a specific search box (aka FWB)?
I've been working on a filter customization in FWB, but it only returns my expected results if I have "Return All Rows" checked within the search window. I've done traces, and trial and error to set this via BPM, but am striking out.
Per the trace, it seems like it's the same BO that fires for my filter does this too.
When I check "return all rows", I notice that the records goes from the Max Rows Returned goes from the default 100 to 0, so I tried setting the pageSize parameter to "0" or 0 with a Set Variable widget, but no dice.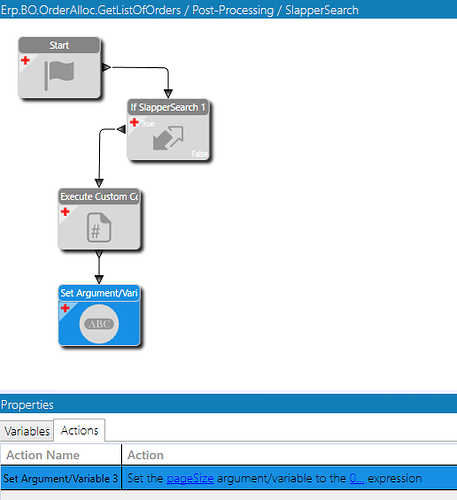 Is it something else?
<tracePacket>
  <businessObject>Erp.Proxy.BO.OrderAllocImpl</businessObject>
  <methodName>GetListOfOrders</methodName>
  <appServerUri>net.tcp://***masked***</appServerUri>
  <returnType>Erp.Tablesets.OrderAllocListTableset</returnType>
  <localTime>10/27/2021 12:03:38:8942273 PM</localTime>
  <threadID>1</threadID>
  <correlationId>13e115b6-5ff9-4715-b6f5-1de38f92bd69</correlationId>
  <executionTime total="4198" roundTrip="4196" channel="0" bpm="0" bpmDataForm="0" other="2" />
  <retries>0</retries>
  <parameters>
    <parameter name="waveWhereClause" type="System.String"><![CDATA[]]></parameter>
    <parameter name="orderHedWhereClause" type="System.String"><![CDATA[]]></parameter>
    <parameter name="orderDtlWhereClause" type="System.String"><![CDATA[]]></parameter>
    <parameter name="orderRelWhereClause" type="System.String"><![CDATA[]]></parameter>
    <parameter name="customerWhereClause" type="System.String"><![CDATA[]]></parameter>
    <parameter name="partAllocWhereClause" type="System.String"><![CDATA[NoFilter,NoFilter,NoFilter,NoFilter]]></parameter>
    <parameter name="countryWhereClause" type="System.String"><![CDATA[]]></parameter>
    <parameter name="shipToWhereClause" type="System.String"><![CDATA[]]></parameter>
    <parameter name="creditHoldClause" type="System.String"><![CDATA[NoFilter]]></parameter>
    <parameter name="i_SortByOrder" type="System.String"><![CDATA[]]></parameter>
    <parameter name="i_SortByWarehouse" type="System.String"><![CDATA[]]></parameter>
    <parameter name="i_SortByAllocation" type="System.String"><![CDATA[]]></parameter>
    <parameter name="pageSize" type="System.Int32"><![CDATA[0]]></parameter>
    <parameter name="absolutePage" type="System.Int32"><![CDATA[0]]></parameter>
    <parameter name="morePages" type="System.Boolean"><![CDATA[False]]></parameter>
    <parameter name="NO_COMPANY" type="System.String"><![CDATA[]]></parameter>
  </parameters>