We use base ERP10 Document Management to attach files to many records in Epicor 10.1.600.26. We use File System Document as the storage type, so Epicor copies the file from wherever the user has it to the network server folder. But every new attachment generates a warning that has to be clicked through. Is there any way to eliminate that warning?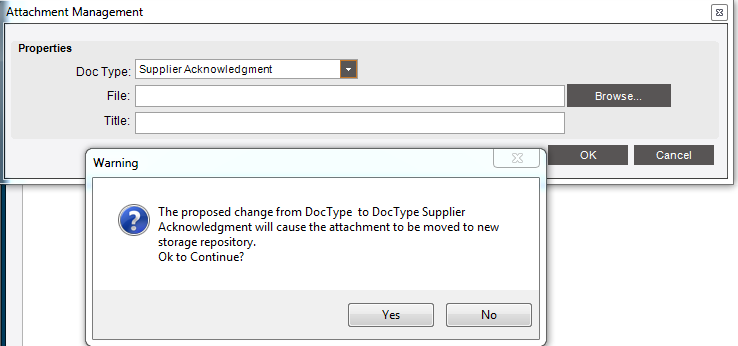 The warning seems to originate directly in the client, as there is nothing at all in a trace when selecting New Attachment. The message occurs as soon as the Doc Type: combobox is changed from the default of blank to any of the Doc Types that we have assigned to a particular table, but then doesn't recur when changing from one Doc Type to another Doc Type.
I made a customization on the New Attachment screen that sets the Doc Type: to one of the valid types on Form Load, but that just moved the warning message from when you change of the combobox to when you open the New Attachment form.
Any ideas on how to stop this bothersome message that user's have to click through dozens of times each day?