Strange error that started to pop up when one of my clients tried to use the Epicor Administration Console to add a new Active Directory user. It worked fine for a few years and then this year it suddenly stopped. Everything else in the EAC seems to work fine and that I know of no AD changes have been made.
It's hard to troubleshoot without understanding what AD account it uses to make the AD connection and if that's not the issue then not understanding how it works makes it hard to troubleshoot: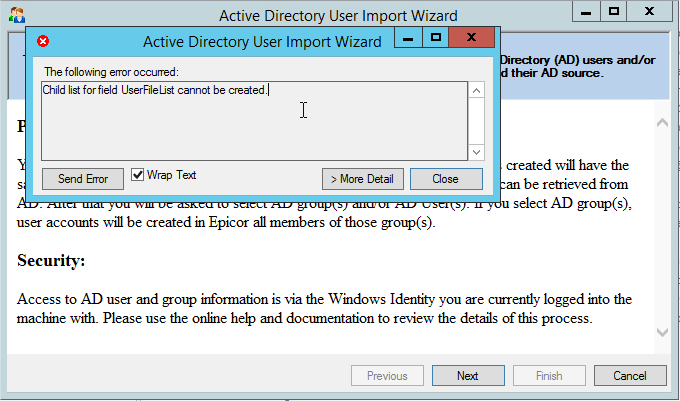 Error Detail:
System.ArgumentException: Child list for field UserFileList cannot be created.
at System.Windows.Forms.BindingContext.EnsureListManager(Object dataSource, String dataMember)
at System.Windows.Forms.DataGridView.DataGridViewDataConnection.SetDataConnection(Object dataSource, String dataMember)
at System.Windows.Forms.DataGridView.set_DataSource(Object value)
at Epicor.Mfg.Administration.ServerManagement.ApplicationServerManager.Wizard.SelectEpicorUserPage.LoadData()
at Epicor.Mfg.Administration.ServerManagement.ApplicationServerManager.Wizard.SelectEpicorUserPage.InitializeUI()
at Epicor.Mfg.Administration.ServerManagement.Common.Wizard.WizardNavigationSubForm.SetActiveWizardPage(NavigationDirection navigationDirection, Int32 wizardPageIndex)
at Epicor.Mfg.Administration.ServerManagement.Common.Wizard.WizardNavigationSubForm.btnNext_Click(Object sender, EventArgs e)