When making an Advanced Print Break/Routing rule on a Report style, make sure to make a copy of the Report Data Definition, and use that for the Style's RDD.
Because you can't change the RDD used by the Break/Routing. Even if you change the RDD used by the Report Style, the Break/Routing will use the RDD specified when the Break/Rout was created.
So even if you just need to un-exclude a field of the base RDD so it can be used in the Break/Routing, you must delete the Break/Routing and create it from scratch.
The good news is, that changes to an existing RDD do show up in the Break/Routing designer.
So just always make a copy of the base RDD, and use that one for the Report Style
One last thing: Deleting a Break/Routing isn't straight forward. There's no "delete" button on the Break/Routing tab, and no "row" to select on the form. And the Delete icon in the toolbar is diabled.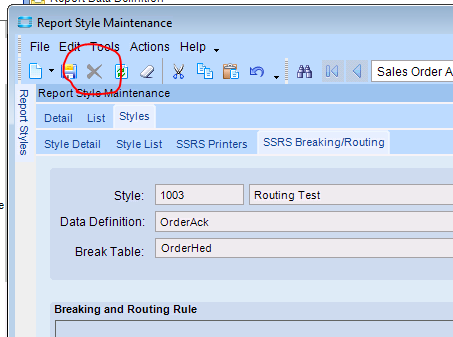 Just click the Style Number on the Break/Routing tab - yes it's Read Only, but the cursor will make that field in focus - enabling the delete button on the toolbar.