In some of the classic versions there are Advanced Search trackers that we have customized to have to and from dates.
Unfortunately moving these to a kinetic view breaks the To and From date search as it only brings over a single date selector. In a lot of circumstances we need to be able to narrow down things by a date range.
The work around was to go into the BAQ and define parameters DateTo and DateFrom then add them to SubQuery Criteria. Having done this creates a slide out page that is triggered when you expand a grid that is powered by that BAQ. Which works as intended and now we can search by a date range again. The issue that this solution creates is that now Advanced Search fields are in a separate slide out, in the overflow, and the date range is in its own BAQ Parameter slide out. So in order to get everything together was to take all the Advanced Search tracker fields and make them BAQ parameters that are then added to SubQuery Criteria as well and then delete the old Advanced Search Tracker so that only the BAQ Parameters are used for searching. Here's what the BAQ Parameter slide out looks like: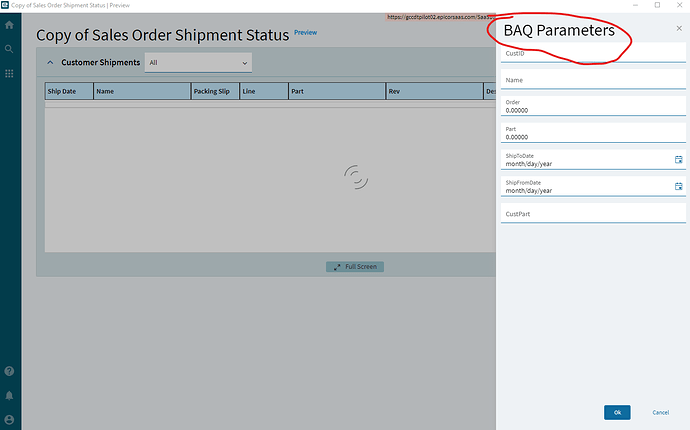 This slide out only seems to be called when the grid is either expanded or refreshed. I need to be able to call this slide out with some kind of event like a button push. I don't like having this set to slide out with refresh or closing/expanding as it clears the form of search criteria which becomes a PIA when users have to keep re-entering long part numbers and customer ID's etc. I have not been able to locate any events that trigger this slide out inside app studio. Any ideas?