Hey,
In 10.2.300 Quote Entry, trying to create a MOM from data in a UD table.
I can create operations on assembly 0 okay (ops 10 - 30), and can create a subassembly okay. The issue is creating an operation on the subassembly.
The subassembly, sequence 1, gets focus after it's created and it's updated with oTrans.Update(). So far so good.
At a messagebox just before I get a new operation record with GetNewJobOper(false), the subassembly still has focus and the assembly sequence in edvJobAsmbl.CurrentDataRow["AssemblySeq"] is 1. Still okay.
But upon getting the new job operation instead of getting op 10 on subassembly 1, it's placed on assembly 0 and focus goes to the new operation created on assembly 0 instead of 1.
I would expect the new operation to be created on the current focus subassembly.
Just before getting new operation:
Just after: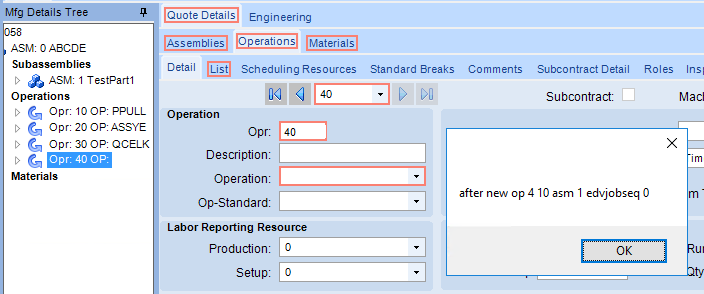 Any experience with this out there?
Thanks,
Joe