Anyone have a good basic set of instructions for adding tables to an RDD?
when to Add a table vs using Pick Links,
Are all joins of added tables outer joins to prevent limiting original data?
I'd like to add two tables to the POForm RDD with the following "joins"
Tables added: OrderHed & UD05
Relations:
OrderHed.OrderNum = PODetails.BTOOrderNum
UD05.ShortChar01 = OrderHed.ProjManager_c
I thought it would simply be:
Add OrderHed table
Create relationships PODetail.BTOOrdernum = OrderHed.OrderNum & company=company
Add table UD05
Create relationships OrderHed.ProjManager_c = UD05.ShortChar01
all is fine for 1 - 3. But during step 4, only the Extended UD fields of OrderHed show as parent fields: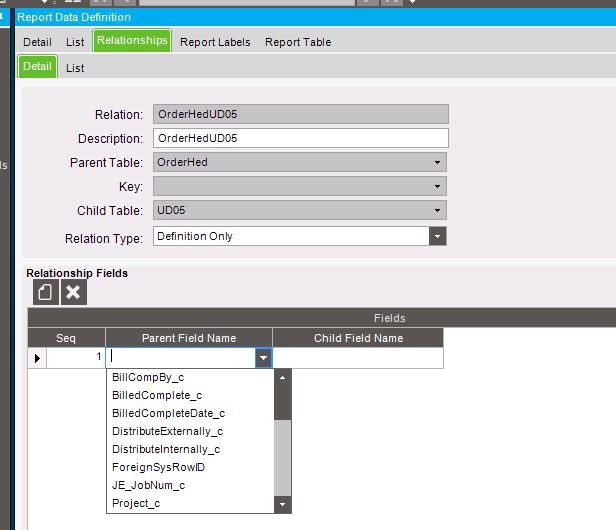 And when should the Relation Type be "Definition Only", vs "Output" ??
The end goal is to email the ProjManager specified on the Sales Order, when a PO contains BTO parts for the that Sales Order. The ProjManager ID is stored in OrderHed.ProjManager_c, and the PM's name, & email are in UD05.
So I need the fields from UD05 in the RDD so I can use the Breaking/Routing to create the email.