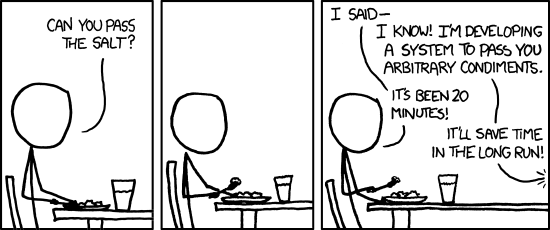 bahahaha yup I hate that so much. Its a battle between, just solve this one problem right now and solve 10 similar problems later.
@hkeric.wci been going through a little of this for a web portal he's been working on for us.
Can we say Agile vs Waterfall?
If you know, you know…
Where MVP is the Maximum Viable Product?

This might be a little me. I can't help it.
Not one user in my entire career ever said… Hey this MVP thing is usable, instead they just avoid using it until its not MVP

The question is: have you ever written an entire solution and people never used it?
Many times… Hey we need Dashboard X, we need it immediately… 6 months later "Hey Joe how is that Dashboard working out?"… "Best thing ever!!!"… Haso to Boss: "Umm I just realized we forgot to deploy that to production."
Liar caught

People who customize Epicor, should just write their own ERP… I mean who customize every little thing in it, just for the sake of Customization… who dont even consider "Lets train on Base and Advocate Base before Customizing."
Not yet today, but it's still early.
The way I see it, it's their money, and they already paid me, so who cares if they don't use it?

At least if they decide to use it, it will have been thought through…
No doubt. Been there. Done that. I think this was all related to whether or not some kind of MVP was worth it. To consultants (and us former consultants), not really.
But if I'm spending the money?
Also, developers think things through, but not always our customers.
The thing is, the reverse can also happen. For example, we developed a web app for one of our customer that started out just as a tool for their reps on the road to enter quotes. Over the year it's been online, because the original project (300+ billed hours!) was well though out and went beyond what the customer thought was the MVP they needed, they extended its capabilities to be able to submit orders and take deposits, to track the entire transaction from quote to order to shipped, included delivery scheduling, etc… Bottomline, one year later what was supposed to be a single use tool has replaced Epicor for everyone entering quotes and ordering stuff internally, as well as remote reps and subcontractors… To date we probably have billed over 1500 hours for this one project, and it's still being improved…
I think we're saying the same thing, no? You didn't wait until 1500 hours were in before you showed them what you've done, right?
Right, but the point is we wouldn't have billed 1500 hours if the original 300 hours deliverables didn't go well beyond what they thought was MVP… The scope wouldn't have expanded to what it is now.
Ah, I think we have a different understanding of MVP means/does. I agree with what you're saying though.
Sounds like major scope creep but if the client is willing to pay…