Thanks for the segue …
I was tested (the deep nasal swab) on 4/27, and got a positive result back on 4/29. So I was out of work until just this last Tuesday (5/11).
I must say that I was relatively symptom free the whole time. The only symptom I ever had was a chills and a mild fever (100.3F) in the early morning of 4/27. And also a tiny bit of a sore throat. But I get that pretty often from allergies. By the time I woke up my temp was down to 99.8F.
Called the doctor and setup a video conference. She scheduled me for a drive through testing around 3:00 that afternoon(Mon 4/27). It only took about 5 minutes. But man did that swabbing hurt. It was probably the most painful procedure I've ever had. I thought the were scrapping the back of my skull. And my nose bled like crazy.
Got a call from the doc at 9:00 AM on Wed morning (4/29), telling me I tested Positive.
I never again broke 99 after that first day. Never really felt sick at all during my "quarantine". A little tired (mentally), but that might have been more from boredom than a physical ailment.
Anyway, if anyone else does get COVID-19, I hope you're symptoms and outcome are as minor as mine were!
feel your pain… nasal swabs… I had just enough time to wonder why 4 large grim orderlies had appeared around my gurney and seemed to be pinning me down!
Always glad to hear from recoveries, stay safe!
Mine was in a drive through testing. I knew going in that it was "uncomfortable", so I put my head back against the headrest, to minimize any moving I might do. I dind't want to have to do it again if my flinching messed up the test. But it felt like the were hammering on a knitting needle shoved straight in my nose.
Well I was appreciative of your COVID experience report right up until this…the nose swab now terrifies me and will haunt my nightmares.



I'm so glad you are ok Calvin! And that you are healthy now and back to work! It seems like every week we get a new email that more people have tested positive. So it's here…lurking in the building…I'm just trying to do my best to avoid it for as long as possible. Hoping and Praying everyone out there is staying healthy as well and that anyone fighting this will get through it quickly and as easily as possible.

Siiiigh…Well, I can but my boss asked me to be here a few days a week.

So I'm half at home and half here. My Dad works with me and I'm most worried about him. I wish he would just stay home (and he could) but stubborn as he is, he comes in every day. I figure if he can come in, I can too.

But I'm getting really good at wearing a mask and washing my hands…like a LOT.

I got the intense version. Several coworkers - that had no symptoms but were in close contact with me - had a gentler self test. They were given a swab and swabbed their own nostrils, 15 seconds each. Just the nostril, up an inch or so. I think mine was the back of the nasal cavity. And again, I had a sore through (from allergies), which I think made the swabbing many times worse.
Regardless of the swabbing type, bring tissues. Even if you don't get a nose bleed, it'll probably at least run for a bit.
Did your nurse look like this by chance?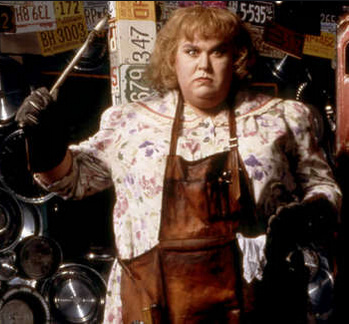 Or this??
Whew, so there is hope that I can swab my own nose! Can't they just swab my finger? Bahaha!!!


I this really is the key. And not as much for preventing you from spreading it, but from keeping you from infecting yourself. You're going to come in contact with it. The trick is to keep it out of your mouth, nose and eyes.
I was quarantined for two weeks. That required my wife and son to be quarantined in the same house with me. We tried to keep apart, but there's only so much you can do. And my son is Autistic (but very high functioning), so getting him to wash his hands regularly was practically impossible.
But in the end, my wife and son were in the same house with me for almost 336 straight hours. And neither of them caught it. Or if they did, the were asymptomatic.
We had one employee, who never had any symptoms - but is a volunteer EMT - get the antibody test, and he came back positive.
maybe this type …

I did keep my eye on the big silent Native American guy that was wandering around
I'm so glad your wife and son were ok even after being quarantined with you in the house! Thank goodness! I took my 5 year old to the doctor the other day and it's incredible what she touches and where her little fingers can go and what she lays her face on and how often she puts her fingers in her mouth! I was like this by the time we were done (only I tried not to touch my face…LOL):
Our kids are a little older but we showed them this:
And it really seemed to help!
Wow Calvin!
Now you got me thinking that I may have already had this thing back in January. I had the same exact symptoms. Testing wasn't a thing back then and I thought it was just an odd cold. Took a lot of Mucinex and that helped me sleep. I slept on the couch a few nights so my wife wouldn't have me coughing in her face. I was mostly active and normal, except for a day and a half when I was exhausted on the couch.
My wife and kids did not get sick though… weird.
Calvin - et al.
i am glad to hear all your experiences -
and i am comforted to hear that everyone here, even if infected,
emerged without a serious reaction - and are fully recovered.
Stay well ! ! !