v10.2.200.6
Currently, we have a Epicor 9 Terminal Server (win server 2008) configured to auto login using a generic AD account. Once this account logs into our server, it auto launches epicor handheld mode. From there, they enter their employee ID number and select Login > a login prompt is presented which I believe authenticates the employee to Epicor: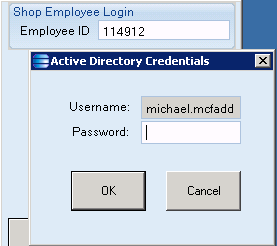 Once they enter their AD credentials it takes them to the main menu and they can proceed as normal.
On our new Epicor 10 Terminal Server (win server 2016), I tried mirroring the same process. Use a generic AD account to authenticate to server, auto launch Epicor -hh. Asks for employee ID > then prompted for login. However, it doesn't accept the AD creds. What I think is happening is Epicor is trying to use Epicor authentication instead of AD authentication. When trying to use AD creds, it presents the following error:

How do I tell the system to use AD authentication for this login prompt? In both E9 and E10 environments, the accounts are set for SSO.
Any help would be greatly appreciated!
Thanks.