A while ago, I successfully did a UOM conversion (including changing the UOM Class) on a new part that had just a handful of transactions.
Trying to do that again and running into problems.
As I recall, the new Class UOM must contain a conversion for every UOM the old Class has. What I did before was to make a conversion of ever UOM in the Old Class, in the new Class. For example
Class COUNT has UOMs: EA*, BX100, BX200
Class LENGTH has UOMs: FT*, IN, YD
the default UOM for the class
The part was incorrect set to COUNT and EA, when it should have been LENGTH and FT.
I thought i just added UOM conversions for the UOMs in class LENGTH to class COUNT
COUNT conversions:
1 FT x 1.00000 = 1 EA
1 IN x 12.00000 = 1 EA
1 YD / 3.0000 = 1 EA

But now I can't seem to add conversions to the new Class. I get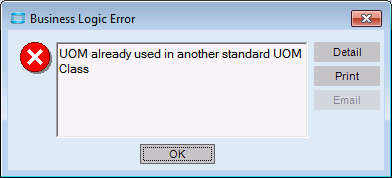 I thought maybe I had it backwards and needed to add the UOMs of the Old Class to the New Class, but that gives the same result.