Is it just me? I feel that no logged error should go unaddressed.
I'm not saying that every error needs to have it's root cause determined and actions taken to prevent it from happening again (when preventable). But when the same error is regularly logged, and it is determined that it's not causing any issues, some folks just choose to ignore it.
For example, the Server Manager on our App server shows: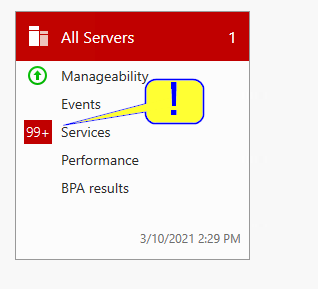 Now that only shows as 3 "different" errors
106 instances of CDPUserSvc_[various id #'s] Stopped Automatic
106 instances of OneSyncSvc_[same ID] Stopped Automatic (Delayed Start)
1 instance of "Volume Shadow Copy" VSS Stopped Automatic
This server also host the client for people connecting via RD apps. And I've been told that thoe errors are related to the RD connections, and are nothing to worry about.
Shouldn't someone determine what isn't right that is causing these?
I don't mean just hiding the error like this:

If I check the Event Viewer on the App Server, The Applications log shows 31 Error level events in the last 24 hours. Most of these happen every day. Things like:
Activation of app Microsoft.AAD.BrokerPlugin_cw5n1h2txyewy!App failed with error: This app can't be activated by the Built-in Administrator. See the Microsoft-Windows-TWinUI/Operational log for additional information.

Am I being to picky, and should let sleeping dogs lie?