I am currently having no luck building a BPM that takes these 4 data fields: CustID, AreaID, CustName and a Package from a Service Plan form, and TRIGGER the creation of another form and populate its field details based on the CustID from the previous Service Plan form.
I am inside the Update method directive for a Service Plan form. An external process is sending an object with the above data into Epicor. My current BPM starts if a row has been updated on the Service Plan table. I then invoke BO method (TablesUpdatedByExternalEvent). If the external event argument is false I then set "callContextBpmData.CharacterXX" field to the data field expressions. When I put an exception message at the end of my BPM to display the bpmData characters, I instead get this generic invalid operation error: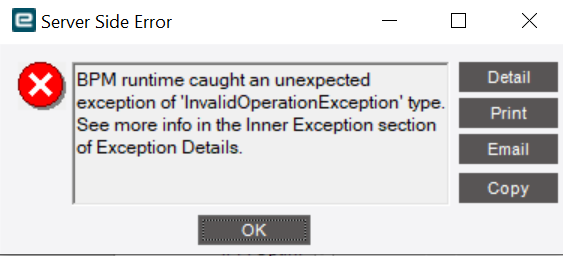 This is as far as I've gotten and I have no idea how to proceed to do the following:
A) Link the two forms based off the CustID and trigger the creation of a new secondary form
B) Filter one of the fields so that it sets "callContextBpmData.CharacterXX" to only start with "ABC", if it doesn't then throw an exception.
D) To enable a post processing directive or not
I've considered to use custom C# code on a function or a BAQ adding the first table fields data into the second table fields data, which I think is the correct option but am unsure of how to proceed.
The end goal is to automate the process of manually going in and creating a new form rather when a new client is signed up to a service plan, a new unique ID for them is also created.