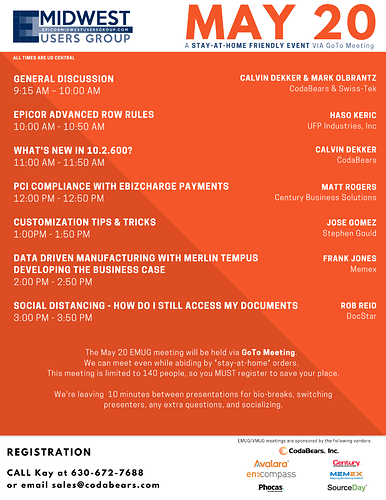 The May 20 EMUG meeting will be held via GoTo Meeting. We can meet even while abiding by "stay-at-home" orders. This meeting is limited to 140 people, so you MUST register to save your place . On May 4, the meeting invitation will be posted to the EUG site opening the meeting for others around the world to attend. Once all slots are taken, they are gone.
To register, CALL Kay at 630-672-7688 or email sales@codabears.com. Replying to this email goes to an inbox that is not closely monitored. We don't want to miss your registration due to technical issues.
The GoTo Meeting information will be sent on May 19 to registered attendees.
• YOU MUST PRE-REGISTER •
AGENDA (all times are US Central)
SOUNDCHECK - Make sure you can connect and hear and see.
9:00 AM – 9:15 AM
GENERAL DISCUSSION
9:15 AM – 10:00 AM
(@CalvinDekker • CodaBears & Mark Olbrantz • Swiss-Tek)
Are you working remotely or even remotely working? What challenges have you faced and how have you been coping? Socializing (from a distance) with your fellow EMUG members.
EPICOR ROW RULES
10:00 AM – 10:50 AM
(@hasokeric • UFP Industries, Inc)
Epicor RowRules have been around for a while, yet the capabilities within the Wizard, let alone beyond the Wizard, are often overlooked when solving basic problems. We will cover in-depth RuleActions, RowRules, Conditions, Delegates, RuleKeys, and order of execution. This is the presentation Haso was to give at Insights!
WHAT'S NEW IN 10.2.600?
11:00 AM – 11:50 PM
(Calvin Dekker • CodaBears)
PCI COMPLIANCE WITH EBIZCHARGE PAYMENTS
12:00 PM – 12:50 PM
(Matt Rogers • Century Business Solutions)
CUSTOMIZATIONS TIPS AND TRICKS
1:00 PM – 1:50 PM
(@josecgomez • Stephen Gould)
DATA-DRIVEN MANUFACTURING WITH MERLIN TEMPUS - DEVELOPING THE BUSINESS CASE
2:00 PM – 2:50 PM
(Frank Jones • Memex)
SOCIAL DISTANCING - HOW DO I STILL ACCESS MY DOCUMENTS?
3:00 PM – 3:50 PM
(Rob Reid • DocStar)
We're leaving 10 minutes between presentations for bio-breaks, switching presenters, any extra questions, and socializing.