Is there a way to accomplish this: I need to set field value in an field marked as external through BPM Data Directive? Context: Due to recent changes made by Mexican Tax Authority (SAT), all AR Invoices from customers marked as "Generic Public" must have a value (from SAT CFDI 4.0 catalog codes) in this fields: MXGlobalInvoiceMonth and MXGlobalInvoicePeriod.
When the ARInvoice is made through AR Invoice Entry program there is no problem due to the user can select this values in Header > Mexico > Detail, then when users post the AR Invoice this fiels are validated by a thidr party called PAC, and returns an XML signed digitallly.
The problem ocurs when the AR Invoice is created and posted by Counter Sales Proccess. According with a Tracing that I made, there is no Updated, UpdatedExt or UpdateMaster methods involved from Erp.BO.ARInvoice, just after click on Process Counter Sale button, therefore BPM Method Directives couldn't be triggered.
Normally this problems could be soved using Set Field Widget whithin BPM Data Directive, but both of there is missing in ttInvcHead: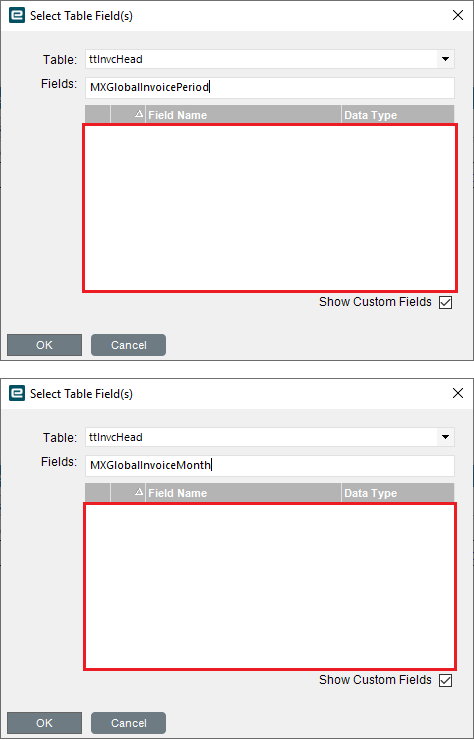 Looking at SQL database I saw that MXGlobalInvoiceMonth and MXGlobalInvoicePeriod currently are stored in [Ice].[PatchFld] table, Is ther a way to insert record in this table? i mean workaround?, because testing the BO.PatchFldImpl.UpdateExt method returns a "Creation of PatchFld not allowed".