We have a customization on our JobTrav print UI. Works fine when launched from the Epicor menu. But when called from JobEntry or JobTracker, I can't get it to use the customization. Anyone see what am I missing?
What I have in Process Calling Maintenance: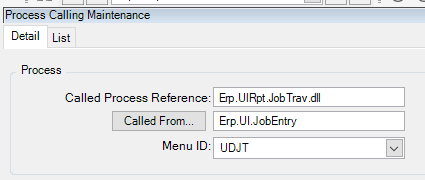 But when launching from JobEntry, it pulls a system menuID… not sure why I've seen it pull both of these:

Menu setup:

I even tried customizing the OOTB system menu, still doesn't load the customization.

Maybe it might have something to do with these BaseExtensions… If so, what do I do?

Thanks!