The definition of force wasn't nerdy enough, you should have used this one for maximum nerd cringe factor:

I wanted to reach a wider audience.
Other options:
P x A
(Force from Pressure over an area)


(gravitational force)


(force on a current carrying straight wire in a magnetic field


(force of optical tweezers)
Hey watch it with the fat jokes dude
It's my daughter's 4th birthday today. The 4th is really with her today!
Star Wars scares her, though. (Bad dad award.) Well, the Lego version is pretty harmless.
The Lego Star Wars games are great multiplayer co-op games.
If you've never hear LEGO Darth Maul Sing "I'm so Awesome", then you haven't heard my theme song yet…
Aww, Happy Birthday to your daughter!






My 6 year old baby girl hasn't seen Star Wars (yet) but she kinda, sorta, saw several Spiderman movies when she was 4 and even though she was scared of the monsters she became "hooked" and asked to watch them all the time. (Bad Mom award?)
Okay, Joke Time!
1.) In the Empire Strikes Back where did Luke get his Appendage?
2.) What do you call an invisible droid?
3.) What program do Jedi's use to open their PDF files?
4.) How do Ewoks communicate with each other?
.
.
.
.
.
1.) At the Second-Hand Store
2.) C-through-PO
3.) Adobe-Wan-Kenobi
4.) Ewokie-Talkies
Why did Anakin Skywalker cross the road?
(click to see...)

To get to the Dark Side.
Good ones…
Should we call them… Mom jokes instead of Dad jokes ?
I wonder…




Show-off with your fancy-shmancy click-to-see arrow…LOL
(click me...)
My son was flying back from Cambodia on the 4th. The flight tracker was fun. I wonder if they did any barrel rolls…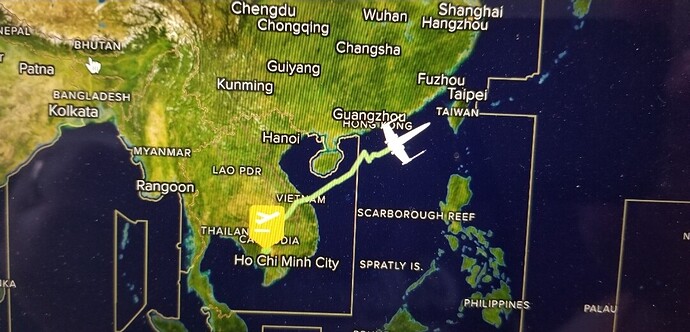 What is that, an X-Wing? What site is this?
Luckily it didn't look like …
Am I the only one that can hear the sound effects? It's like the Magic Eye 3D posters, but for sound.
No, as soon as I saw that picture I heard them.
But I only hear the Tie Fighters "screech"