Epicor version 9.05.701
Problem: I have an employee who just recently is getting an "invalid" error when logging into MES. He logs in fine with a user name and password, the console opens and he clicks login, puts in his clock number and it says "invalid".
Note: After doing some online research on the below forum it could be because his default company has changed (this user has 4 companies assigned, 1 just recently added). But i have no idea how to check this or change it. There doesnt seem to be a "default" tick box in user security.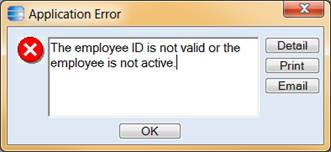 Many thanks in advance.