How can I make the Kinetic URL shorter? (For the sake of argument, let's say I can't touch the DNS - though that is actually an option.)
As an example from our development server,
I dabbled briefly in IIS with the settings below. It worked in some ways and made others worse.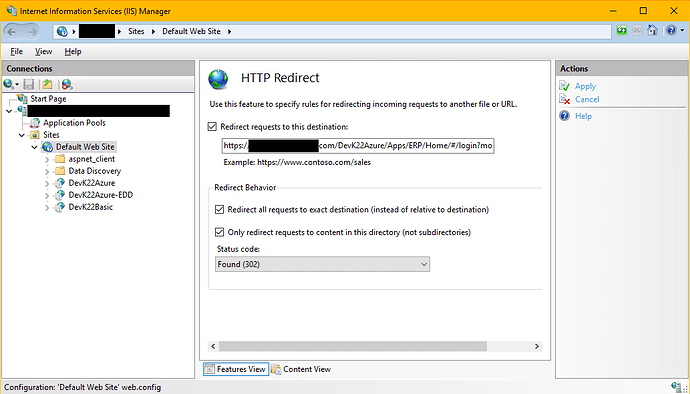 Those settings do indeed accomplish a redirect from (2) to (1) - from https://subdomain.domain.com/ to https://subdomain.domain.com/DevK22Azure/Apps/ERP/Home/#/login?mode=dc
However, the problem is that if I try to enter the URL for the office interface, it ALSO redirects to the Data Collection site. And of course that is not what we want.
In fact, this seems to redirect ANYTHING that begins with https://subdomain.domain.com/ - even different app server endpoints. I'm not trying to make anything on https://subdomain.domain.com/ go to one place; only the exact address of https://subdomain.domain.com/