Hi all,
I am getting an ApiException when I try to update a JobOper using the PATCH API.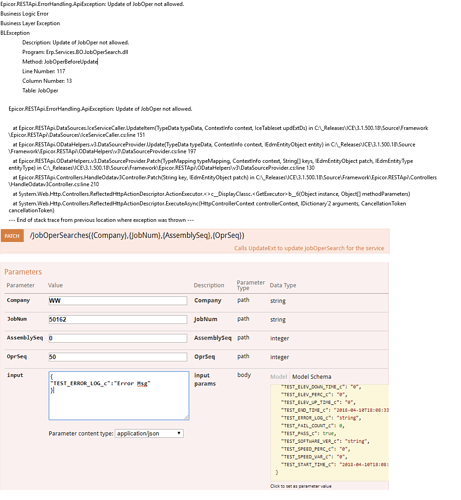 I've tried to use every combination of parameters and input possible but have had 0 luck in updating an entry. I've tried single quotes around the strings and every PATCH format I can find but I'm not having any success.
I'm not that well versed on the business logic side of the object, but I am able to edit these fields through the E10 desktop app without any issues.
I was hoping that someone here had experience with the PATCH commands or could point me in the right direction as to why the errors might be happening.
We are working on updating Epicor to 10.2, but are currently running 10.1.500.18, not sure if that has any significance but figured I'd throw it in here.
Thanks in advance for the help!