I have a UD Table setup as a child to Supplier Maintenance. I am trying to use it to enter new data records using the VendorID as Key1 and the wizard generated auto-incrementing counter as Key5. I have two date fields and a combo box bound via a customization to three of the UD table fields (ShortChar01, Date01, and Date02). The problem that I am having is that whenever I search a select a supplier record, the custom fields auto populate with the first record from the UD table. How can I stop this from getting the data and displaying it?
I have tried commenting out the GetUD39Data method pictured below, and it keeps the fields from pulling data in. The problem is that when I try to create a new record, I get an error message when I hit save that says the it's a duplicate entry of an existing record.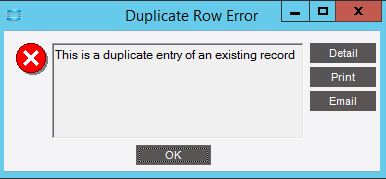 Can anyone help? I can provide screenshot of the code I am working with if needed.
Thanks in advance!