Does anyone know if I'm actually missing an assembly or is there something else I need to instantiate?
I'm setting up Visual Studio tests to instantiate an ErpContext object and run through some code that adds/updates quote details. However, I keep getting the error "Unable to find assembly for contract "Erp.Contracts.QuoteSvcContract" after attempting to create a quote service (shown below):
ErpContext context = new ErpContext();
Erp.Contracts.QuoteSvcContract quote = Ice.Assemblies.ServiceRenderer.GetService<Erp.Contracts.QuoteSvcContract>(context);
The context is created without any errors and the error occurs when attempting the GetService call on the quote.
Here are my current project references: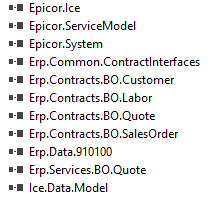 Thanks,
Josh