I just spent quite a bit of time troubleshooting an updatable BAQ that essentially adds/updates Price List Parts and Breaks.
The Designer gives you two options.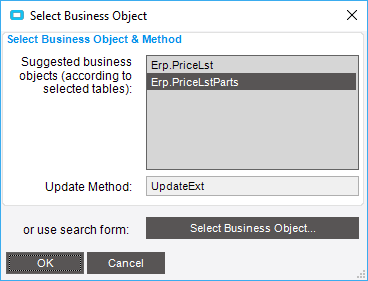 So I choose Erp.PriceLstParts because the query actually matches pretty logical to the DataSet. I get everthing mapped, run/edit and click update. And then the BO error comes up "Can not Create" or "Can not Update". So I go to the BL tester to see if I can get it to work there. Same Errors. I go to the REST page and try it there, same errors. If finally decompile the darn thing to see what the heck was going on. Come to find out that the service will throw a BO Exception for Add, Update and Delete! Yet it still has and visible public Update and UpdateExt Methods!
I guess my point is, why does Epicor expose those methods and let us choose it if you can't actually do anything with it?!?