Hey all, I'm back after a month of bringing another site onto Epicor with us. It is…working.
After mountains of research into transaction hierarchies, flexing and posting rule modifications, the accounting is where it needs to be.
And then I see this: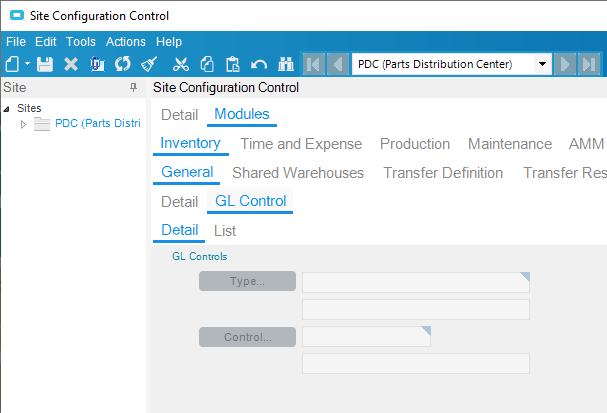 Question # 1: What in blazes does this GL control do?!
Either I have never seen it come up in the hierarchy manuals, or I have been confusing it with the Site Maintenance GL Control. This might explain why the PE Log Viewer sometimes says it's unable to find "Seg2 value," when I know I set up GL controls on the site and warehouse.
And then the really confusing thing to me, is that there is no GL Control Type associated with the Plant Configuration entity.
And I see that I could add the entity to an existing Type, or create a Type from scratch, but that's like partial differential calculus to me.
Question # 2: are all the GL Control Types set up by hand in a new Epicor launch?! Or does everyone have "AR Account" and InventoryCOSandWIP" and "Plant Transfer," like the pic below? If these are standard, why do I not have any Type tied to the Plant Config entity?