Might anyone have had previous success with creating a BAQ report using a CTE-based BAQ?
General problem I'm having: The CTE BAQ behaves as expected when entering a part number as a BAQ parameter - but - the BAQ report seems to maintain the parameter option value even when running through the various part assembly levels. In addition, the BAQ report appears to recognize the assembly levels, but the grouping of that data only seems to run one-level higher.
Instead of constructing a top-down BOM-level view, the requirement here is opposite of that – when I enter a part number as the parameter, I need to see if it exists in an upper-level assembly… then see if that assembly exists in another upper-level assembly, and so on. Reason? The Sales Department wants to know all of the sales orders attributed to the original part (which could be a sub-component of a larger assembly that we sell to customers).
I'm satisfied with the results of the CTE and have tested it on several part numbers (here's one simple example):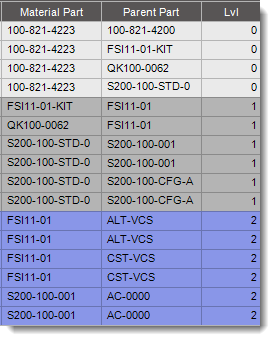 From above… part #100-821-4223 is a sub-component of #100-821-4200 - but #100-821-4200 is not a member of any other parent assembly. That is expected. Notice that you cannot find #100-821-4200 as a material part in level 1.
I merely used this exact CTE to feed a new BAQ report. I can pull data into the report, but it certainly doesn't follow the progression of level 0 to level 1 to level 2 that the CTE follows.
I'm guessing it is because of my misunderstanding of grouping on the SSRS report - but - if I construct the report with NO grouping and just pull in the exact 3 fields above in the "Details" row (so they can simply repeat as displayed records until the recordset is exhausted), the material part value is repeated through all levels.
Any special considerations for using CTE in a BAQ report? If "grouping" is inherent in the CTE level value, how is this maintained in SSRS grouping? What might your suggestions be for displaying the simple matrix of results illustrated above in an SSRS report?
As always, thanks very much for the help.
EDIT: I forgot to add the SSRS report results: