Hi, I've been going a little nuts trying to figure out a way to get the results I want for a BAQ I'm writing.
I want to have a query that displays material (component) part num, parent part num, and the issued quantity for all jobs. I've used the JobHead and JobMtl tables to do this. I want my end result to be - by material part - the parent part that had the highest quantity issued. So every material part that has an issued quantity should only be listed once with the parent part it was issued to most.
To do this I first used the sum(JobMtl.IssuedQty) expression and group by function for a subquery:

This gave me a sum of all issued quantity of material part numbers by parent part number. Now in the next subquery I want the parent part that had the highest issued qty of each material part. For example I want only rows 1 and 3 in the sum subquery results below.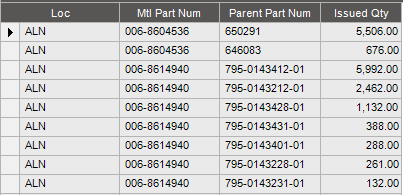 I can't figure out how to do this. I was trying to find a way to use the top function for taking the first(highest issued quantity) result of each material part number but have had no luck with research. Any ideas?