I'm trying to create a UI customization that, when a user scans a lot number into the UD lot field, it finds the bin with the lot and puts the part, qty, first bin, and first whse code into the fields.
I was trying to key into the scanLotTXT_ADW field's validated event and have it trigger from there, but I'm not sure how to get a new record/dataset to put the fields into.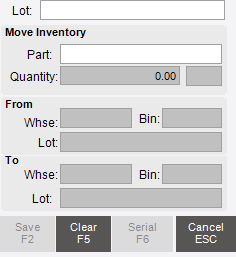 This is what I was going for (trying to create a new row in the view dataset and insert fields, but it throws errors left and right). Has anyone done something like this that could offer me some guidance?
The below code, I was trying to get it to work with hard-coded data before I went further and used the dynamic data from whatever lot they scanned.
	private void scanLotTXT_ADW_Validated(object sender, System.EventArgs args)
	{
		// ** Place Event Handling Code Here **
		EpiDataView edvMove = oTrans.Factory("view");
		var newRow = edvMove.dataView.AddNew();
		newRow.BeginEdit();
		newRow["PartNum"] = "S-160";
	    newRow["RowMod"] = "A";
		newRow["TransferQty"] = 2;
		newRow["FromWarehouseCode"] = "MAIN";
		newRow["FromBinNum"] = "TRK";
		newRow["TransferQtyUOM"] = "EA";
		newRow["FromLotNum"] = this.scanLotTXT_ADW.Value;
		newRow["Company"] = "ISI"; 
		newRow.EndEdit();
		oTrans.NotifyAll();
		
		CallInvTransferAdapterGetTransferRecordMethod();
	}

	private void CallInvTransferAdapterGetTransferRecordMethod()
	{
		try
		{
			// Declare and Initialize EpiDataView Variables
			// Declare and create an instance of the Adapter.
			InvTransferAdapter adapterInvTransfer = new InvTransferAdapter(this.oTrans);
			adapterInvTransfer.BOConnect();

			// Declare and Initialize Variables
			// TODO: You may need to replace the default initialization with valid values as required for the BL method call.
			string iPartNum = "S-160";
			string uomCode = "";

			// Call Adapter method
			Erp.BO.InvTransferDataSet dsInvTransfer = adapterInvTransfer.GetTransferRecord(iPartNum, uomCode);

			// Cleanup Adapter Reference
			adapterInvTransfer.Dispose();

		} catch (System.Exception ex)
		{
			ExceptionBox.Show(ex);
		}
	}