Hello,
After we posted the stats for last month, we had a lot of you ask if you could help some with the cost of the site. That wasn't the intention of the post, never the less a lot of you reached out wanting to help.
Over the weekend I poked around the platform's plug ins and found a supported plugin for Patreon that was pretty trivial to setup. I set it up and added the link to the top nav bar next to the search.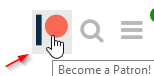 If anyone wants to join, feel free to do so. Right now most of the cost of running the site is paid for by the ads and that has been fine thus far, whatever the ads don't cover we have been covering and that hasn't been a huge deal.
We don't want anyone to feel like they have to contribute, this forum from it's inception has always been free for everyone to use and we do not intend to change that in any way.
However many of you have reached out several times about it, so we are putting the link up and we will probably never mention it again, but if you want to help feel free to subscribe trough the link https://www.patreon.com/epiusershelp
If somehow we manage to get enough support through there to cover the cost of the site in it's entirety we will remove the ads from the site, since they will no longer be necessary.
If you guys go crazy and put in way more than needed (please don't do that) we will find something to do with it that benefits the community, give away crap, T-Shirts, Rainbows, cookie bouquet, donate to a good cause… a monthly rubber ducky subscription for @aidacra…

something…
If you do join Patreon you'll get a badge flair on your profile that says you are awesome, and you will be an exclusive member of the "Patrons" group,(which means nothing but it sounds cool

)
Thanks a lot guys and gals!
1/16/2019 Update
Just implemented a new feature were our patreon supporters should no longer see ads. Let me know if you have any issues with this.