I created a BAQ to provide a pick list by bin number. My BAQ is a little complicated and has 3 subqueries and one top level. I can add table criteria in the top level to restrict to only specified job numbers.
I then created a BAQ Report - ideally, I want to use the filter option to pick the job numbers to print. But when I try to add it - the drop down has JobHead_JobNum three separate times. I don't know which to use. I tried using each one individually and wasn't able to get any to work.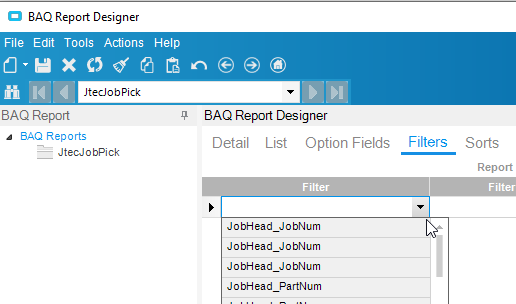 I should also add that I removed the criteria from the BAQ when I was attempting to achieve this through the BAQ Report.
Does anyone have any ideas?
Thanks for the help! I'm new to Epicor and not very talented in this area!