Who has attended Insights Extended Education Classes? Was it worth the extra time and $$$?
I have and tried to do so every year.
It's 4 hours of in-depth training in those areas with access to the instructors for questions.
In my opinion, it's invaluable.
As long as the classes are taught by Subject Matter Experts the EE Classes are well worth the extra time and money!!! I wish they were offered more than once a year so we can get more of them in for when there are scheduling conflicts during Insights.
Agree with Aaron, I do the same. However, go in with the understanding that they are usually very focused and guided/scripted tours of the functionality. When the course description says you'll be able to create something, it means you will but you may not understand anything related to it.
The instructors are educators usually, not technical resources - but those technical folks are typically in the rooms with you and do really help a lot. There generally isn't time for any exploratory or specific-to-you discussions with instructor or whole group, but you can do this with the technical resources and/or they will point you to the right person (and maybe they are at the conference).
I've gone the past 2 years and have done all four classes both times. I think it was worth it, except for one class. (see details below). So of the 8 that I have taken, I thing that 7 were worth it. I'm signed up for 4 more this year. I would stick with the technical/Epicor specific ones. If you want to know about the class I didn't like, you can expand below.

critical review, you were warned!

"Creating high performance to achieve breakthrough financial, service and growth performance".
I don't mean to offend anyone on the education side, but during the class he was literally reading to us like 3 year olds from slides that he stole from his college MBA class. Very little if any application was talked about that would help my in my business life. Needless to say, I didn't come back after the break…
That's exactly why I say as long as Subject Matter Experts teach the courses. I ran into a few of those last year too. It wasn't always that way and I hope it doesn't continue going that direction either. I really NEED the experts to teach the class. I can read an instruction manual myself…mostly.

Though I always get something out of every course that I've taken and I appreciate that they offer these classes at all!

Yes, and if you do sign up, please don't hijack the class with super specific to only you discussion. The rest of the class will appreciate it.
But, you can make appointments with some of the technical people to have those discussions. I had a meeting with one of the Epicor staff to talk about projects and how they would apply for my business. So don't be afraid to grab the staff and see if you can get some one on one time if you need it.
Thanks all. The two I am looking at are:
Use Epicor XL Connect 7 to Get More Out of Your BAQs and Other Datasources
Leverage Epicor Data Discovery to Analyze Your Business
We just purchased XL Connect for 2019, new tool for us! Our executives really want to push the dashboards this year for quick analysis, so I really want to become an expert with EDD.
I have several times. Definitely worth the investment in time and money.
Dave -
I have taken these classes each year for the last three Insights conferences and they have been very beneficial. They do an in-depth focus on one particular area of the application. An added bonus is being able to network with key personnel related to the module / function being taught and following up later with additional questions. I have found them to be very responsive after the fact.
Speaking from the "Epicor" side of the platform… the last few years, I have either assisted, or have presented during the extended education classes… Each one is fairly scripted, but that is so we can get material in front of the students that can be completed. Our goal is to truly show you something, but also for you to have something to take home, and try again.
I work with you, the customer every day… but most of my learning comes when I am able to sneak into one of these Extended Ed classes as an "extra" helper.
Some of the instructors are from the education group… some are Technical (developers)… some are program managers for the module being educated on. But in all cases that I have seen, there are experts in the room that can answer your questions.
Hi Tim,
I'm new to Epicor and am a Systems Analyst in my IT department looking to expand my knowledge on Epicor and learn how to customize the application. I have played a bit in our test environment but am in need of more in depth training. What would be a good way to go about getting this training outside of Epicors web based training's? Any help is most appreciated!
Thanks,
Aly
Welcome @aholliday!!! You've certianly come the right place for answers!
Well that is a wide and varied subject!

BAQs, BPMs, Dashboards, Themes, UI Customization, UD Fields, etc., etc… Can you be more specific with what you want to accomplish? It will help us narrow down the suggestions.
Hi Mike,
Thanks for the prompt response! I was hoping this was the right place! Sorry guess it would help if I narrowed it down. I am looking to learn all of them, but I need to start with the basics since I'm a newby. I have created change logs, and frequently create BAQ's, I have also tried my hand at Quick Searches with some success. With that said, I need to ramp up on the rest of the types of customization's, i.e. BPMs, Dashboards, UI Customizations (which I assume requires me to learn how to code, which I really want to do), and UD fields. Where/how do you suggest I start?
Thanks for your help!
Can I ask the reason behind this requirement?
And I'm going to throw out there the ICE tools user guide, which is available in the help files. This has some really nice step by step walk-throughs for a lot of the customization tools and is a great place to get started. Did you find that yet?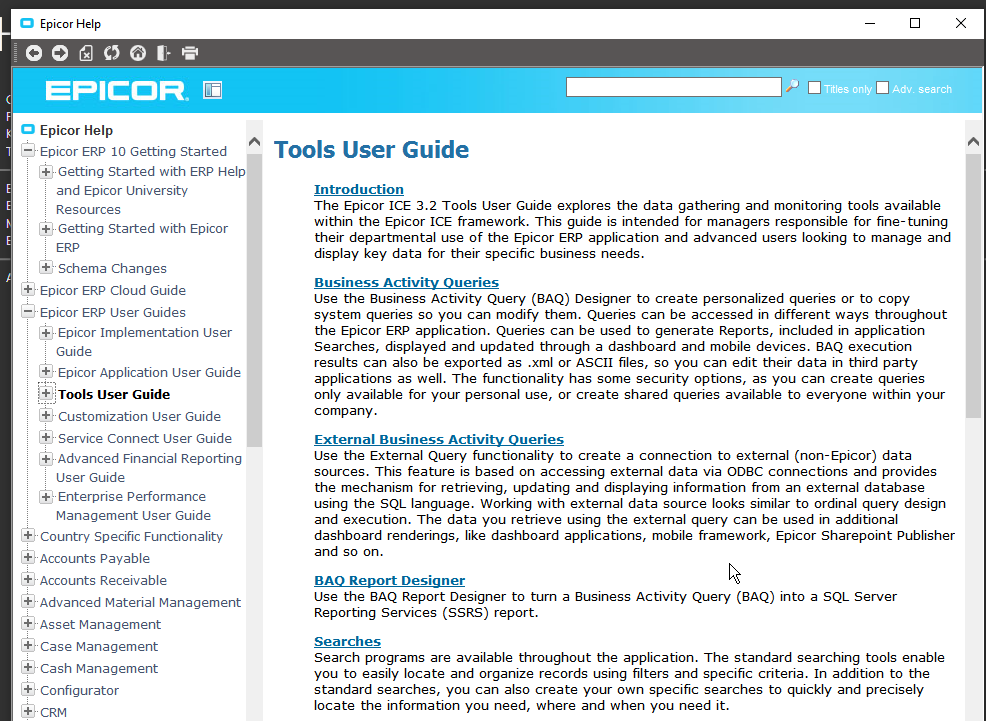 Yep - that's the one. I was looking for the correct title but @Banderson beat me to it. You can get it from EpicWeb in the downloads/documentation section.
Sure, I am a Systems Analyst in the IT dept for the company that I work for and I we just implemented Epicor 10.2.100. I am a newby to Epicor myself and need to come up to speed quickly on how to customize the system, we already have a ton of requests for enhancements and customization's. I would like to be able to do these myself or at least begin to do these but am looking for the best way to learn this. Thanks for the snap shot. I'll take a look at it. Are there any folks you know of who teach this content? Just thinking it would help in driving home the documentation.
Epicor Offers Education Classes which you can pay for and apply for online at EpicWeb
Some are online lead others are on-site.
You can also hire a consulting company or a partner to do some training for you.
And last but certainly not least, Epicor Insights the international conference offers a lot of training and content particularly the extended education sessions.
I think you may have misunderstood the emphisis on @Banderson's question.
(I.e, whats wrong with Epicors training?)