Hey,
I'm wanting to refresh the dashboard when I hit the update on the BAQ (advanced update). So, in the BAQ update I set callContextBpmData.ShorChar10 when the routine finishes.
In the dashboard customization I check this field when the dataset initializes, but it never shows any contents.
Is it possible to do this?
Thanks,
Joe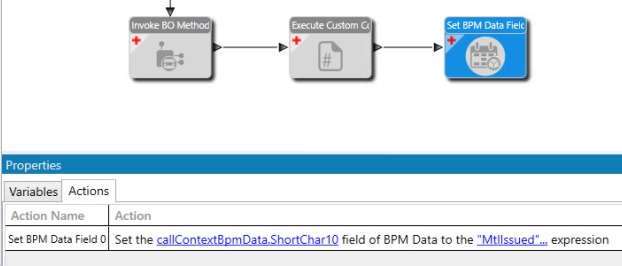 private void edvV_LSP_IssueMaterialsDetail_1View_EpiViewNotification(EpiDataView view, EpiNotifyArgs args)
	{
		// ** Argument Properties and Uses **
		// view.dataView[args.Row]["FieldName"]
		// args.Row, args.Column, args.Sender, args.NotifyType
		// NotifyType.Initialize, NotifyType.AddRow, NotifyType.DeleteRow, NotifyType.InitLastView, NotifyType.InitAndResetTreeNodes

		if ((args.NotifyType == EpiTransaction.NotifyType.Initialize))
		{
			if ((args.Row > -1))
			{
				MessageBox.Show("Shorchar10 " + edvCallContextBpmData.dataView[edvCallContextBpmData.Row]["ShortChar10"].ToString());

				if (edvCallContextBpmData.dataView[edvCallContextBpmData.Row]["ShortChar10"].ToString() == "MtlIssued")
				{
					mtlIssued = true;
					MessageBox.Show("Back from update.");
				}