I know there's many ways to skin a cat, but what are few ways to accomplish the following. Note there are kind of two distinct tasks.
Let me explain what I did in V8, and then I'll open it up to for ways to do it better in E10.
Need to query the APInvHed table and related tables. That data is then formatted for a text file, and the text file saved to the server.
I did this via a BPM for DynamicQuery.ExportByID.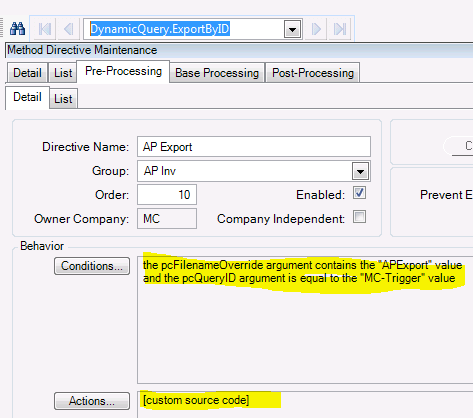 The Actions were 100% 4GL/ABL code to create a text file based on data from APInvHed and related tables.
Created a BAQ ("MC-TRIGGER") that didn't actually do anything.
Ran the BAQ Export Process, with the BAQ ID "MC-TRIGGER" and other fields set for params to pass to the BPM. And scheduled it to run daily at 8:00 PM

So my questions are:
Better way to generate a text file directly to the server, with no user interaction.?
Better way to have that happen automatically?