Question: Has anyone experienced an extreme slowness when using the Epicor ECM Client to do a batch import of roughly 100 PDFs? I'm specifically experiencing a new issue where the client app takes forever to lock the files to be uploaded.
Background: Over the past few months, I've used the Epicor ECM Client (a.k.a. DocStar Client Service) app's CSV Import to import thousands of PDFs to our on-premises ECM 21.2.68 system. On the Batch Import tab, Import Type is set to CSV. For each batch import, I have a tab-delimited text file which contains the PDF file names to import as well as values for about 11 content fields.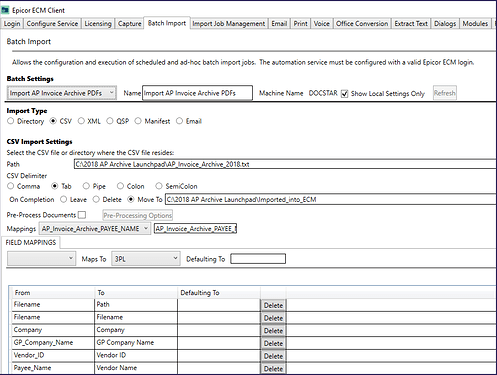 Previously:
If I attempted to upload more than 100 PDFs at one time (in one batch) from my company laptop over VPN, the process would take too long. So I would cancel the import and switch to our server.

When I imported from the client app on our ECM application server, the batch imports were super fast (until today): A batch of 100 PDFs would finish before I could blink. A batch of 3,000 PDFs from the server's client app would finish in a few minutes.
As of today, however, uploads from our ECM server's client app are experiencing the same issue as my laptop over VPN: The locking of the selected files is taking forever – If the batch has 100 files, it's taking at least 80 minutes to complete the locking; then the actually uploading to ECM is pretty quick.