I want to change Suppliers for PO?

when I unapproved the Supplier button doesn't open
Identifies the supplier, and if applicable, the supplier purchase point from whom you are ordering the parts, supplies, or subcontract operations. If you do not know the supplier ID, click Supplier to access Supplier Search and browse for the correct ID. The supplier name and address are displayed.
Customer and Supplier Owned Purchase Orders
If entering a customer-owned purchase order, you must first create a supplier code in Supplier Maintenance for the customer supplying the inventory you are receiving.
The same supplier code must also be assigned in the Type field in Warehouse Bin Maintenance to the warehouse bin in which the inventory will be received.
When the purchase order is received in Receipt Entry, the Epicor application validates that the assigned supplier code matches the supplier code assigned to the bin to which the inventory is being received.
Similar processing also applies when receiving supplier-owned purchase orders.
Changing Suppliers on Existing Purchase Orders
The following processing takes place if you attempt to change the assigned supplier identifier for an existing purchase order:
If you create a purchase order with an specific supplier and then link one of its purchase release lines to a sales order release in the Buy To Order section of the Order Entry > Release > Details sheet, the Supplier field is disabled and you cannot change the supplier identifier in this field.
If one of the purchase order lines contains a part that has approved suppliers, you are only allowed to change the supplier to a valid approved supplier for all of the ordered parts. If the specified supplier is not approved, an error message displays.
If this is a contract purchase order, and you change the supplier, the Epicor application verifies, for all associated purchase order lines, that active part schedules have been defined for the supplier in Part Schedule Maintenance. This allows you to switch to different suppliers for which active part schedules have been defined in Part Schedule Maintenance.
A This Contract Purchase Order contains Parts which do not have an active part schedule for the selected Supplier." error displays if active part schedules have not been defined for all of the contract lines.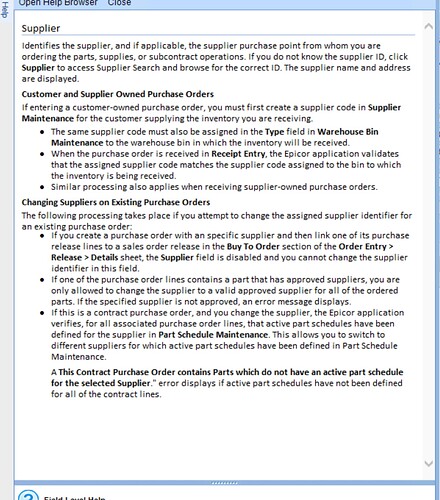 Have a nice day! Thank you very much