Hey Ya'll!
We are making a podcast!! After all these years talking about it, Insights after Insights, we are taking the plunge and expanding our community into the world of podcasting!
Over the years we have really loved watching the community grow and are still amazed at how much interaction we get out of every post and reply. With so much good information out there we thought it might be fun to turn our little forum into a podcast. The EpiUsers Insights Panel, so to speak, unleashed!
A podcast about what you ask? Well about everything that makes this community great, Epicor of course yes but so much more, ERP, Enterprise, the Cloud, the Web, Lean, Manufacturing, Implementation you name it! (No, literally we are going to need content suggestions)
We have such a wealth of knowledge and experience in this community that we believe we can sustain a regular podcast with a rotating cast of guests from Epicor, Customers, SMEs, Partners and more! How-tos, Stump the Chump, Solutioning and just all around fun.
We hope you will join us in this new adventure and give it a listen, we are making it available both as an audio podcast (on all the major platforms) and as a video podcast on Spotify and Youtube.
So sit back and listen to our first episode below where we go a little bit into why we are making this and then do a bit of an Insights Post mortem. We already have several guests lined up for future Episodes and we are always open to suggestions.
Is there anyone in particular you'd like to hear from? Do YOU have something you'd like to share that might of interest to the community? Let us know!
We are also running a bit of a contest to come up with an official name or tagline for the podcast, I mean EpiUsers is fine, but if you come up with something better let us know we'll put the top 3 or 4 up for a vote and the winner will get a prize.
Also we are looking for Stump the Chump style questions to answer, so if you have a burning question, technical or not that you'd like answered send it our way and we will try to find an answer for you!
Send an email directly to with your questions or suggestions!
Like , Subscribe and Hit that Bell Icon
← Said in a Gen Z Hyper Excited yet suuuper Emo Tone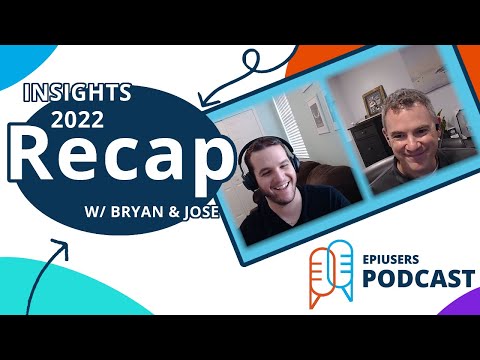 This Episode is Hosted by @josecgomez and @bderuvo with video production by @jgiese.wci and emotional support from @Banderson
Incredible artwork, logo and banners designed by @hasokeric (thank you!!!

)