Hello,
I am making a process that allows a person to type in the hours worked for a group of employees for a given week in an excel spreadsheet. Then once a week the new labor entries get pushed to Epicor using the DMT.
The issue I have run into is that I can't successfully push any labor records into Epicor. If I only use the required fields that DMT recommends, it says that I am missing a field, screenshot below.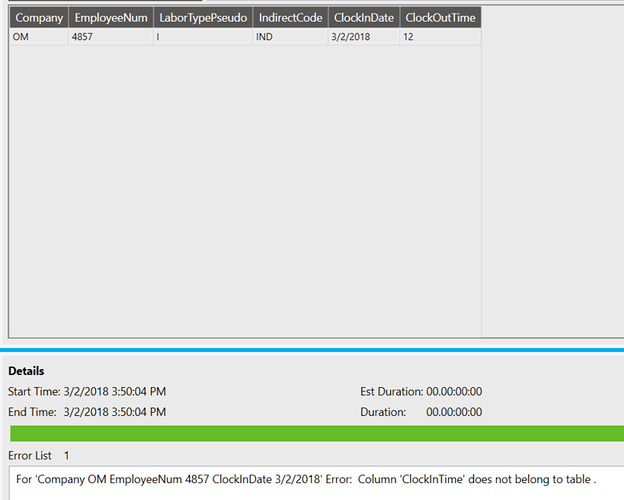 If I go through and add every one of the fields that it says I am missing, I get the "object reference not set to an instance of an object". I suspect this has something to do with the laborhedseq and labordtlseq generation but that is just a hunch.
Some other details:
We are on Epicor 10.1.4 so we do not have access to the API yet. The customer for this wants this asap and is not willing to wait for the upgrade to get the API.
Ideally, you will be able to type into the excel sheet multiple days, multiple employees and which jobs their hours went to. All of this should happen from the same spreadsheet.
I have made updateable dashboard before but only being able to modify one record at a time, and not being able to add new records crosses off this option as a solution.