WIP Recon uses the GL posting engine to determine what accounts would be hit by the various transactions. But the GL posting engine will not create a transaction that would have a zero dollar debit and credit. If the Cost of the shipped part was zero when it was shipped, then the MFG-CUS parttran record would have a zero cost. So it wouldn't appear on the WIP Recon.
Before we try to make a BAQ, Open the Job in Job Tracker. Then run the Production Detail Report (Actions->Print->Production Detail). Make sure the Print Material Transactions box is selected.
Check that the Ship Date (in the SHIPPING ACTIVITY section), is after the Date in the Material Transactions section… In the following example, The job was shipped on 9/26/2019, which was before the material was issues on 9/27/19. Therefore the job had no cost at the time it was shipped.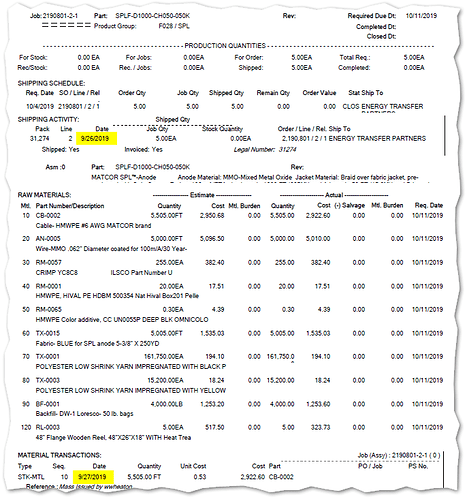 Note that even if the dates are the same, the order could have been
Create packer and mark as shipped. At this point the job has no cost.
Issue Materials to the Job.Now costs have been added to WIP, but the job has already shipped.
edit
And at the bottom of the Prod Detail Report: