Hello All,
After the conference I learned about the REST API and was very excited to try it out. We followed the REST Implementation Documentation from Epicor Help along with the REST Overview Novel that Bart put together.
When trying to access the first example https://YourServer/YourShare/api/v1/Erp.BO.SalesOrderSvc/SalesOrders
I got a 404 error - File or Directory not Found and I didn't receive a prompt for credentials. So one by one I started taking out parts of the URL string and received 404 errors until I got down to just https://YourServer/YourShare/
Here I get a 401 error - invalid credentials, still with no prompt for credentials. (I am changing "YourServer", "YourShare" to our server and the valid application by the way).
When we drilled into our connections on the management portal we noticed that there is no API folder, does that have anything to do with it?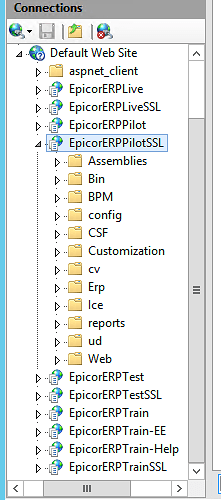 Has anyone run into this issue or know whats going on here?
We are currently on 10.1.600 and I tried this on Chrome and Firefox.