Today, 8/10/2022 is my 23rd anniversary at Epicor (big cheers!)… I started in Tech Support (5.5 years), then Professional Services (16+ years), then Product Management (1.5 years). Epicor has been, and continues to be a great place to work.
Sometimes we look back and wonder… "Did I make an impact?", "Am I doing quality work?", "Will I be remembered" (or missed) when I eventually move on (not planning anything soon).
Well… I typically answer that by looking back at some of the changes over time that I had my hand involved with in the product. I know of some special fields, processes, and features that I had a direct impact on getting implemented. Some of you use those features:
Allow Consumption of Minimum - one that I pushed on for a while to solve a major problem for some customers
Min/Max/Safety calculations - I "accidently" developed this as an updatable dashboard for a customer who needed it. A Sales Engineer got ahold of it and started including it in demonstrations. When E10 came around, it had to be rewritten, and someone in Dev converted it to a real process.
DEEP PAST
But I even see a relic of past work at my former employer… over 25 years ago, I was the IT Manager at a small company called Datatronics and I created their FIRST Website. It was very state-of-the-art back then with real photos of products, and it was all built with the now defunct Microsoft FrontPage. Well, the webpage has been completely redesigned and no longer a FrontPage site, it still has some remnants of my original website.
If you go to Datatronics' "About" page, you will see this photo. I TOOK THIS PHOTO using a 0.5 megapixel Kodak digital camera (good for the day) and used an early version of Adobe Photoshop to "clean up" the image, removing powerlines, and making it pretty. (For a while, I even had a space shuttle flying over the building as a joke). Also, if you go to their Awards page, many of the photos of awards are ones I took as well with that old Kodak digital camera (the ones with bad resolution).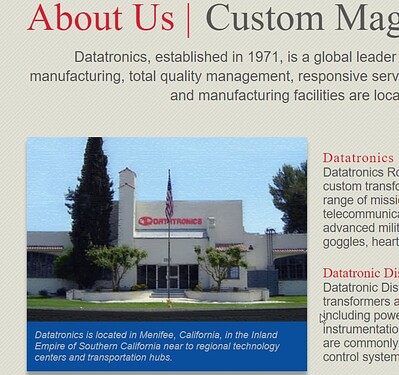 For Reference, here is what the building looks like today according to GoogleMaps… the Cypress tree is much taller, the powerlines are back, the building is painted, and even the sign on the front of the building is gone (but they still reside here).

So… if you ever wonder about your value, remember that what you do MAY still be in use 25 years later. (If I got just 1 cent for every view of that photo…)